Keswick, located near the stunning Derwent Water, is a small town of around 5,000 residents that transforms into a bustling hub of activity during the peak season from April to September.
---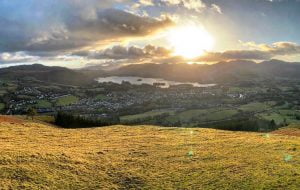 ---
Known for its proximity to some of the Lake District's most beloved fells, it attracts many fell walkers and visitors drawn to its diverse collection of shops, cafes, and festivals.
---
Whether you're an outdoor enthusiast, an art lover, or simply looking for a relaxing getaway, Keswick has something to offer everyone.
---
Here's a guide to help you plan your visit.
---
Outdoor Activities: Keswick is surrounded by breathtaking scenery and is a paradise for outdoor enthusiasts.
---
Take a stroll around the town's parks, including Fitz Park and Hope Park, or head to the nearby lakes and mountains for more strenuous activities such as hiking, rock climbing, and kayaking.
---
Derwentwater, one of the largest lakes in the Lake District, is a short walk from the town centre and is the perfect place to rent a boat or picnic.
---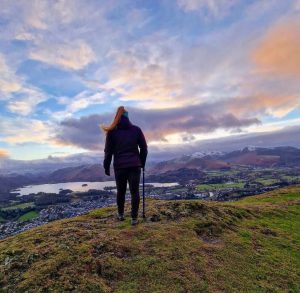 ---
Art and Culture: Keswick is also home to several art galleries showcasing the works of local artists.
---
The town's theatre, The Theatre by the Lake, stages productions throughout the year and is a must-visit for theatre lovers.
---
Take a stroll around the town centre to admire the historic architecture and to see the famous bronze statue of Charles Dickens.
---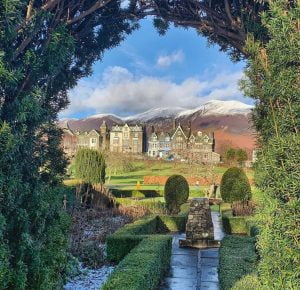 ---
Food and Drink: The Market Square in Keswick is dotted with many pubs, but The Dog & Gun is arguably the most well-known dog-friendly pub in the Lake District.
---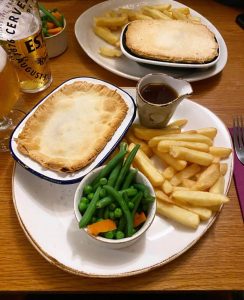 ---
On any given night, you may find that dogs outnumber people.
---
The pub is famous for its Hungarian goulash, a legendary dish that is highly regarded.
---
Locals and tourists frequent The Dog & Gun, which has a warm and inviting atmosphere.
---
Another local favourite is The George, known for its "cow pie," a massive slice of pie that's perfect after a day of outdoor activities.
---
Finally, if you're looking for a hidden gem, The Pheasant Inn, located a 15-minute walk from the town centre, is a must-visit.
---
This traditional pub offers excellent food, ales, and a delicious fish pie.
---
Other highly recommended pubs include The Royal Oak and The Bank Tavern.
---
Try the famous Cumberland sausages, a local speciality, or visit one of the town's many cafes and tearooms for a delicious cream tea.
---
For those seeking to embrace the Lake District's adventurous and health-conscious spirit in their dining choices, Merienda or Kat's Kitchen are great options to consider.
---
Merienda has a laid-back café atmosphere yet serves an adventurous menu full of superfoods.
---
On the other hand, Kat's Kitchen is a vegan café that offers an extensive range of healthy choices and a constantly changing menu.
---
It also follows an eco-friendly approach in all its operations.
---
Please note that the operating hours for each day may vary, so be sure to check their website before visiting.
---
Are you craving some traditional fish and chips? Keswick has two excellent options to satisfy your cravings: The Old Keswickian in Market Square and The Kingfisher on Main Street.
---
In addition to traditional dining options, Keswick offers a diverse selection of international cuisine, including Indian at Lakeland Spice or Sultan of Keswick, Chinese at Golden Hills, and Thai at Asaya Thai Restaurant.
---
Keswick is filled with cosy coffee shops for those searching for a quick bite.
---
Java offers a unique experience featuring a chocolate fountain used to drizzle decadent chocolate on drinks and desserts.
---
The Wild Strawberry is known for its delicious breakfast options, while Treeby and Bolton is part of a contemporary art gallery and shop.
---
If you're looking for something different, the Square Orange Café serves delectable tapas and thin-crust pizza and regularly hosts live music evenings.
---
The Lake District is a breathtaking destination for hiking and outdoor adventures, and it is home to many gorgeous picnic spots for those looking to enjoy a meal on the go.
---
Consider incorporating local produce, such as a Cranston's pork pie, Hawkshead Cumbrian Relish, or a cheese slice from The Cheese Deli at Packhorse Court, to make your picnic memorable.
---
Shopping: Keswick boasts an abundance of shopping options, offering outdoor gear stores that cater to activities like winter climbing, paragliding, kayaking, and wild swimming, as well as independent shops that provide unique and specialised items.
---
For example, Packhorse Court is home to a cheese deli, toy shop, and interior design store.
---
The main pedestrianised street and surrounding areas are dotted with charming gift shops, art galleries, candy stores, clothing stores, practical places like convenience stores and Booths, and a local supermarket.
---
In addition, you can find fresh produce, baked goods, gifts, and flowers at the town's twice-weekly market.
---
With a mix of popular high-street brands and local boutiques, Keswick is the epitome of a diverse shopping destination.

---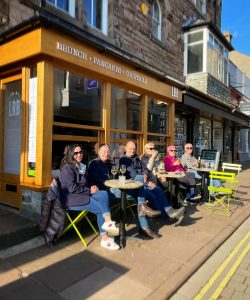 ---
Getting There
---
By Car: Exit the M6 at junction 40 and follow the A66 towards Workington. Keswick is signposted from the exit.
---
For a scenic route from the south, exit the M6 at junction 36 and take the A590 and A591, passing through Windermere and Ambleside.
---
This route offers stunning views of lakes and valleys, but the road is narrow, with one lane in each direction for most of the journey, adding approximately an hour to your trip.
---
By Public Transport: Unfortunately, Keswick no longer has a railway service, but it is still well connected by a frequent bus route from Penrith Rail Station to the town centre.
---
By Foot: Keswick is a convenient stopover point for those hiking along the Cumbrian Way, as the trail runs alongside the town.
---
In conclusion, Keswick has a rich history, stunning scenery, and many activities to keep visitors entertained.
---
Whether you're looking for outdoor adventure or a relaxing holiday, Keswick is the perfect destination.
---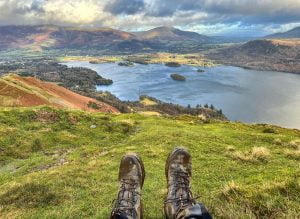 ---
So plan your trip now and discover this hidden gem in the heart of the Lake District.
---

---
(Fantastic selection of holiday cottages across Keswick in the Lake District.Available to book now.)