Elter Water, named after the Old Norse for "Lake of the Swans," is a picturesque lake located a few miles west of Ambleside.
---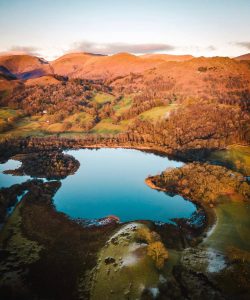 ---
It is known for its stunning waterfall and visiting swans.
---
The village of Elterwater on the northwest shore of the lake is mainly comprised of holiday cottages, making it a good option for those seeking self-catered accommodations.
---
Elter Water can be reached by taking the A593 from Ambleside and the B5343.
---
With its crystal-clear waters, breathtaking scenery, and range of outdoor activities, it's the perfect destination for visitors looking to escape the hustle and bustle of city life and immerse themselves in nature.
---
Here's a comprehensive guide to help you make the most of your visit to Elter Water.
---
Public restrooms can be found at Elterwater, along with various pubs and cafes serving visiting tourists.
---
For more dining options, head to Skelwith Bridge village, located about a half mile southeast of the lake, where you'll find other pubs and cafes.
---

---
Things to do at Elter Water:
---
Take a boat ride: Explore the lake by boat and take the stunning scenery from a new perspective. Boats can be hired from the nearby boatyard.


---

Go for a walk: Elter Water is an ideal destination for families with young children or those who use wheelchairs, thanks to its location on the Cumbria Way.


---

This national trail will take you from the National Trust car park at Elterwater (NY 328 048) along the lake's northern shore and down to the stunning Skelwith Force waterfall at Grid Ref NY 340 034.

---

This route is a little over a mile long (2.5 miles if you include the return journey) and is on a well-maintained path suitable for strollers and wheelchairs.

---

Upon reaching Skelwith Force, you can continue to walk around the lake, but as the southern side of the lake is privately owned with no public access, you'll need to take a single-track road, joining it from the Cumbria Way at NY 330 030.

---

This route will take you past another waterfall, Colwith Force, and eventually back to the village of Elterwater.

---

Go fishing: Elter Water is a popular spot for fishing, with various species, including trout and perch, to be found in its clear waters.


---

Visit the Elter Water Visitor Centre: This visitor centre offers a range of information on the local area, including its history, wildlife, and outdoor activities.
---

---
Where to eat:
---
The Elterwater Café: This cosy café serves a range of light bites, including sandwiches, soups, and cakes.


---

The Oak Tree Inn: This charming pub serves a range of classic pub grub, including hearty pies, sandwiches, and soups.


---

The Elterwater Lodge: This stylish restaurant offers a range of delicious dishes made using locally sourced ingredients.
---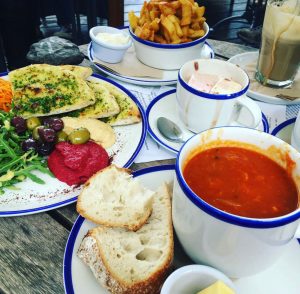 ---
Where to stay:
---
The Elterwater Youth Hostel: This budget-friendly option offers comfortable and affordable accommodation, including a range of dormitory rooms and private rooms.


---

The YHA Langdale: This luxurious hostel offers stunning views of the surrounding hills and a range of on-site facilities, including a restaurant and bar.


---

The Elterwater Country House Hotel: This charming hotel offers comfortable and stylish guest rooms and is just a short walk from the lake.
---
Parking
---
The National Trust operates a car park on the outskirts of the village of Elterwater, located at Grid Ref NY 328 048.
---
Another option is to park near Skelwith Force waterfall at Grid Ref NY 341 037 on the southeastern side of the lake.
---
Roadside parking is also available in the village of Elterwater, but please make sure not to obstruct any driveways or access points.
---
In conclusion, Elter Water is a stunning and peaceful destination, perfect for visitors looking to escape the hustle and bustle of city life and immerse themselves in nature.
---
Its range of activities, delicious dining options, and comfortable accommodation makes it the perfect place to spend a few days exploring the Lake District.
---
So why plan your trip today and discover all this beautiful lake has to offer?
---