Cumbria's county city boasts a vibrant history, partly due to its proximity to the Scottish border just 10 miles to the north.
---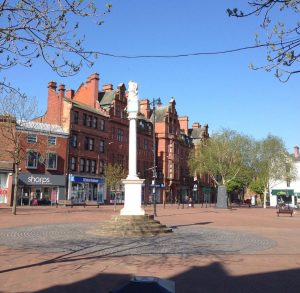 ---
With over 75,000, it is the largest settlement in Cumbria and the only city in the county.
---
Although it is located 20 miles outside the Lake District's national park and its famous lakes and falls, it remains a popular destination for tourists.
---
Things to do:
---
Visit Carlisle Castle: This historic castle dates back to the 11th century and has played a significant role in the city's history. Please take a tour of the castle to learn about its rich history and admire the stunning views from the top of the tower.


---

Explore Tullie House Museum: This museum features a collection of art, artefacts, and exhibitions that tell the story of the city and its people. From Roman times to the present day, there's something for everyone at Tullie House.


---

Visit Hadrian's Wall: This ancient Roman wall stretches across northern England and is a UNESCO World Heritage Site. The wall is just a short drive from Carlisle and is a must-visit for history and archaeology buffs.


---

Take a scenic drive through the Lake District: It is famous for its stunning scenery and rolling hills. Take a scenic drive through the region to admire the breathtaking views.
---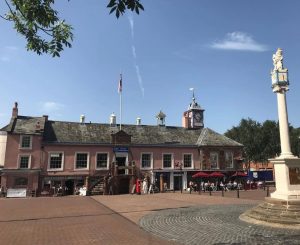 ---
Where to eat:
---
The Warehouse Cafe: This charming cafe serves up delicious, locally-sourced food, including fresh-baked cakes and pastries, soups, and sandwiches. It's the perfect place to stop for a bite while exploring the town.


---

The Old Lowther: This traditional pub serves classic British cuisine, including hearty stews and roasted meats. Enjoy a pint of ale and soak up the local atmosphere.


---

The Crown and Mitre Hotel: This elegant hotel offers a fine dining experience with a menu that features fresh local ingredients and innovative cooking techniques.
---
Where to stay:
---
The Budget Hotel: This budget-friendly option offers comfortable rooms and a convenient location, just a short walk from the city centre.


---

The Crown and Mitre Hotel: This elegant hotel offers comfortable rooms, stunning views of the surrounding mountains, and a range of on-site facilities, including a restaurant and bar.


---

The Old Lowther: This traditional pub offers comfortable guest rooms and a warm, welcoming atmosphere.
---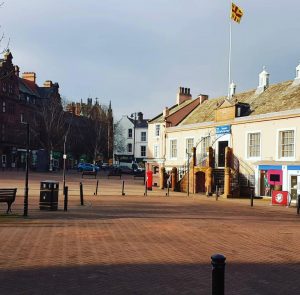 ---
Getting Here
---
By Car: Leave the M6 at exit 42 and follow the A6 towards the downtown area.
---
There are several parking options in the centre, with the Lanes Shopping Centre offering the most prominent chance.
---
However, this lot tends to fill up quickly on weekends and during the holiday season, so consider parking at the quieter options located on Cecil Street or Viaduct Estate Road.
---
By Public Transport: Carlisle is a central train hub along the West Coast Main Line, providing direct connections to cities such as London Euston, Glasgow, Edinburgh, Manchester, and Newcastle.
---
The National Express coach service also has several routes that stop at Carlisle, including destinations such as London, Plymouth, Birmingham, Edinburgh, and Aberdeen.
---
By Foot: Carlisle is located along the Hadrian's Wall National Trail, an 84-mile trek from Bowness-on-Solway in North Cumbria to Wallsend in Tyne and Wear.
---
The town is a convenient and welcome rest stop for those undertaking the journey on foot.
---
In conclusion, Carlisle is a beautiful and historic city that offers something for everyone.
---
From its rich history and culture to its stunning scenery and outdoor adventures, it's the perfect place to escape and explore.
---
So why not plan your trip today and discover all this charming city has to offer?
---