Windermere, the largest lake in the Lake District and England, is the most popular among visitors.
---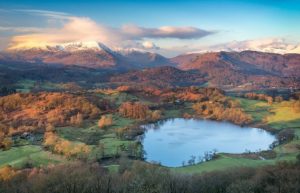 ---
Its reputation as a premier tourist destination was established in 1847 when the Kendal and Windermere Railway branch line was created, bringing a surge of Victorian-day trippers and holidaymakers to its picturesque shores.
---
Windermere boasts an estimated 10,000 registered boats and is a water sports hub. It is easily accessible from Kendal via the A591.
---
This stunning lake offers visitors a range of activities and breathtaking views, making it the perfect destination for anyone looking to explore the great outdoors.
---
Here's a comprehensive guide to help you make the most of your visit to Windermere.
---
Windermere is considered a tourist hotspot by locals, which is why there are numerous amenities around the lake catering to visitors.
---
These include cafes, pubs, shops, boat rentals, steamboat tours, and the Lakeside and Haverthwaite Steam Railway located at the lake's southern end.
---
Additionally, various companies are offering outdoor activities such as guided walks.
---

---
Things to do at Windermere:
---
Go for a walk: The Windermere Way is a scenic walk of approximately 45 miles that circles the entire Windermere Lake.


---

Ambleside is a prime starting point for those interested in hill walks, with various higher peaks, including Red Screes and Dove Crag, available for exploration.

---

For those looking for a more relaxed walk, Windermere Lake Cruises offers a variety of trails that steamers can access, with special tickets for walkers.

---

In the town of Windermere, Orrest Head is a well-known and easily accessible walk that offers stunning views from its summit.

---

The trailhead, located at SD 414 987 by the entrance to the Windermere Hotel, is marked with a large sign, and the route is well-signposted to the summit at SD 415 994, 238 meters above sea level.

---

Take a cruise: Take a leisurely cruise along the lake, taking in the breathtaking scenery from the water and enjoying a range of onboard activities and attractions.


---

Visit the World of Beatrix Potter: This charming attraction, located in nearby Bowness-on-Windermere, offers visitors the chance to step into the world of Beatrix Potter and learn more about her life and work.


---

Go kayaking or canoeing: Rent a kayak or canoe and explore the serene waters of Windermere, taking in the stunning scenery from the water.


---

Visit the Lake District Visitor Centre: This visitor centre, located in nearby Brockhole, offers a range of exhibits and interactive displays about the history, culture, and natural beauty of the Lake District.
---

---
Where to eat:
---
The Punch Bowl Inn: This cosy pub serves a range of classic pub grub, including hearty pies, sandwiches, and soups.


---

The Chesters by the River: This charming restaurant serves various delicious dishes, including locally sourced seafood, salads, and sandwiches.


---

The Bluebird Café: This quaint café serves a range of light bites, including sandwiches, soups, and cakes.
---

---
Where to stay:
---
The Lakeside Hotel: This charming hotel is located on the shores of Windermere and offers comfortable and stylish guest rooms with views of the lake.


---

The Windermere Backpackers Hostel: This budget-friendly option offers comfortable dormitory rooms and is just a short walk from the lake.


---

The Linthwaite House Hotel: This luxury hotel, located in nearby Bowness-on-Windermere, offers comfortable and stylish guest rooms with stunning views of the lake.
---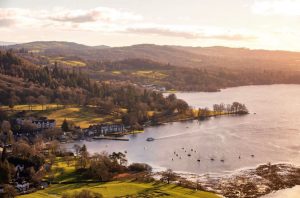 ---
Parking
---
Several pay-and-display parking options are available at the lakeside towns and villages along Windermere.
---
On the northern shore, you can park at Ambleside.
---
On the eastern coast, you can park at Bowness-On-Windermere and nearby the Beech Hill Hotel on the A592, which has public toilets and a picnic area.
---
The southern shore has parking at Lakeside Pier.
---
Limited road access is available to the western coast, but you can park at Far Sawrey pier near Hill Top, the former home of Beatrix Potter.
---
Far Sawrey is accessible via the B5285 from Hawkshead or by ferry from Bowness-On-Windermere.
---
In conclusion, Windermere is a truly stunning destination, offering visitors the chance to escape city life and immerse themselves in nature.
---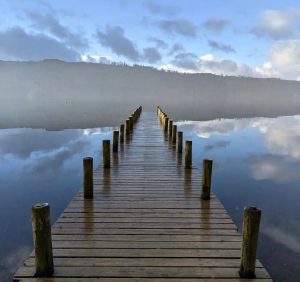 ---
Its range of activities, delicious dining options, and comfortable accommodation makes it the perfect place to spend a few days exploring the Lake District.
---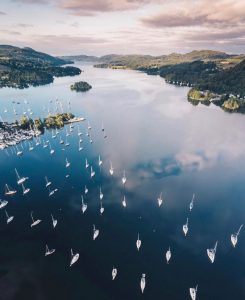 ---
So why not plan your trip today and discover all this beautiful lake has to offer?
---