Grasmere, quieter than the bustling lakes of Windermere and Derwent Water, is a charming destination for tourists and is near the town of Ambleside.
---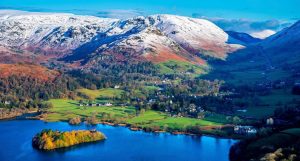 ---
Admired by William Wordsworth, this small lake is situated near the village that bears its name and is famous for Grasmere Gingerbread.
---
The A591 that connects Keswick and Ambleside can easily reach the lake.
---
With its serene waters, rolling hills, and picturesque views, it's the perfect destination for anyone looking to escape the hustle and bustle of city life and enjoy the great outdoors.
---
Here's a comprehensive guide to help you make the most of your visit to Grasmere.
---
In Grasmere village, you'll find public toilets, bars and cafes.
---
Lakeshore boat rentals are available just outside the village.
---
William and Dorothy Wordsworth's former home, Dove Cottage, is situated on the A591 with a view of the lake and is open to the public with a museum, store and tearoom.
---

---
Things to do at Grasmere:
---
Go for a walk: A three-mile-long walk around Grasmere is a popular tourist activity.


---

Unfortunately, most of the walk is along the busy A591 road.

---

To start the hike, head from the centre of Grasmere village to the B5287, then turn right onto the A591 and follow it for about a kilometre until reaching the footpath starting at Grid Ref NY 343 062.

---

This path will take you to a bridge that crosses the stream connecting Grasmere to Rydal Water.

---

After crossing the bridge, turn right to walk along the lakeshore until you reach a single-track road at NY 334 064.

---

Turn right, and it will lead you back to Grasmere village.

---

Alternatively, a hike to Easedale Tarn, located northwest of Grasmere, offers a quieter experience and stunning scenery without a demanding ascent.

---

Start at Grasmere village and follow Easedale Road to the bridleway starting at NY 331 082.

---

The 4-mile round trip hike takes you past several beautiful waterfalls before reaching the tarn at NY 310 087.

---

Visit Dove Cottage: This charming cottage was once the home of the famous poet William Wordsworth and is now a museum, offering visitors the chance to learn more about his life and work.


---

Visit the Wordsworth Museum: This museum, located in nearby Grasmere village, is dedicated to the life and works of William Wordsworth and is a must-visit for fans of his poetry.


---

Take a scenic drive: Take a drive around Grasmere and take the stunning scenery from the comfort of your car.


---

Go boating: Rent a rowboat or canoe and explore the serene waters of Grasmere, taking in the breathtaking scenery from the water.
---

---
Where to eat:
---
Grasmere Gingerbread Shop: This charming shop is famous for its delicious gingerbread, made using an old family recipe.


---

The Red Lion Inn: This cosy pub serves a range of classic pub grub, including hearty pies, sandwiches, and soups.


---

Grasmere Tearooms: This charming tea room serves a range of light bites, including sandwiches, soups, and cakes.


---

---
Where to stay:
---
Fantastic selection of holiday cottages across Grasmere in the Lake District.Available to book now.

---

The Grasmere Youth Hostel: This comfortable hostel offers a range of affordable accommodation options, including dormitory rooms and private rooms.


---

The Grasmere Campsite: This budget-friendly option offers comfortable camping facilities and is just a short walk from the lake.


---

The Wordsworth Hotel: This charming hotel is located near Grasmere village and offers comfortable and stylish guest rooms with views of the lake.
---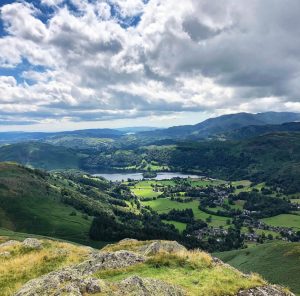 ---
Parking
---
To ensure a spot, arriving early at one of the two car parks in Grasmere village, which are just a short walk away from the lake, is recommended.
---
These car parks have limited spaces and can fill up quickly during busy times.
---
In conclusion, Grasmere is a truly stunning destination, offering visitors the chance to escape city life and immerse themselves in nature.
---
Its range of activities, delicious dining options, and comfortable accommodation makes it the perfect place to spend a few days exploring the Lake District.
---
So why not plan your trip today and discover all this beautiful lake has to offer?
---