Ullswater, the Lake District's second largest lake, is famous for its fleet of steamers offering lake cruises with various stops along the shore.
---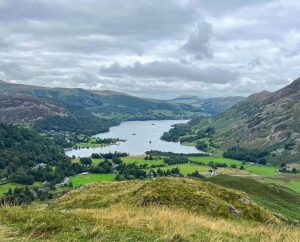 ---
The lake is also a popular spot for sailing, with regular competitions, and boat rental is available.
---
Three glaciers formed its distinctive "Z" shape, and the majestic Helvellyn hills surrounded it.
---
The best way to access Ullswater is via the A592, which runs from outside Penrith to Glenridding along the lake's northwest shore.
---
With its crystal clear waters, rolling hills, and range of outdoor activities, it's the perfect destination for anyone looking to escape the hustle and bustle of city life.
---
Here's a comprehensive guide to help you make the most of your visit to Ullswater.
---
At Glenridding and Pooley Bridge, numerous amenities are available, such as stores, cafes, and public restrooms.
---
Those taking the trail from Howtown to Glenridding will be delighted to come across the Lowther Tea Room, a converted barn with a cafe and self-catering accommodation located away from any roads (Grid Ref NY 418 193).
---
On the opposite end of the lake, the National Trust operates a cafe and toilets at the Aira Force waterfall (Grid Ref NY 401 200).
---
---
Things to do at Ullswater:
---
Go for a walk: A complete circuit around Ullswater is approximately 20 miles, with much of the path following the A592 road.


---

Despite this, the area offers an array of stunning trails suitable for walkers of all levels of experience, from novices to experts.

---

One recommended route, ideal for families with young children and beginners, is the circular walk to Aira Force (starting point Grid Ref NY 401 200).

---

This walk is characterized by its gentle slopes, breathtaking waterfall, and exciting attractions such as a tree trunk filled with coins and the National Trust's shop and café.

---

Another option is a 7-mile walk from Howtown to Glenridding, which features a well-maintained path along the lake shore.

---

You can take a steamer from Glenridding to Howtown and then enjoy a leisurely walk back.

---

Finally, Glenridding is the starting point for those attempting to conquer the peak of Helvellyn and its challenging ridge, Striding Edge.

---

Again, this route is not appropriate for inexperienced walkers.

---

Take a boat tour: Explore Ullswater by boat and take the stunning scenery from a new perspective. Boats can be hired from one of the many boat hire companies located around the lake.


---

Go fishing: Ullswater is a popular spot for fishing, with various species, including trout and perch, to be found in its clear waters.


---

Visit the Ullswater Steamers: Take a ride on the Ullswater Steamers, which offer a range of tours around the lake, including scenic trips, wildlife-watching trips, and historical tours.
---

---
Where to eat:
---
The Sharrow Bay Hotel: This elegant hotel serves a range of delicious dishes made using locally sourced ingredients.


---

The White Lion Inn: This charming pub serves a range of classic pub grub, including hearty pies, sandwiches, and soups.


---

The Glenridding Hotel: This cosy café serves a range of light bites, including sandwiches, soups, and cakes.
---

---
Where to stay:
---
The Ullswater Youth Hostel: This comfortable hostel offers a range of affordable accommodation options, including dormitory rooms and private rooms.


---

The Ullswater Campsite: This budget-friendly option offers comfortable camping facilities and is just a short walk from the lake.


---

The Ullswater Hotel: This charming hotel offers comfortable and stylish guest rooms and is just a short walk from the lake.
---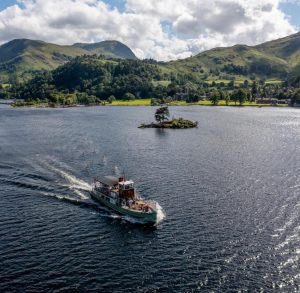 ---
Parking
---
Parking options are available at Pooley Bridge on the north shore and Glenridding on the south coast of the lake.
---
Additionally, parking spots along the A592 road provide direct access to the lake.
---
A single-track road also starts from Pooley Bridge and runs along the southeast edge of the lake to Martindale, offering several parking spots including at Hause Farm Church (Grid Ref NY 434 184).
---
However, it is recommended to only drive up to this point as the road narrows to a farm track with limited passing opportunities.
---
In conclusion, Ullswater is a truly stunning destination, offering visitors the chance to escape city life and immerse themselves in nature.
---
Its range of activities, delicious dining options, and comfortable accommodation makes it the perfect place to spend a few days exploring the Lake District.
---
So why not plan your trip today and discover all this beautiful lake has to offer?
---