Buttermere can be found northwest of the Lake District, a scenic 11 miles away from Cockermouth via the B5289.
---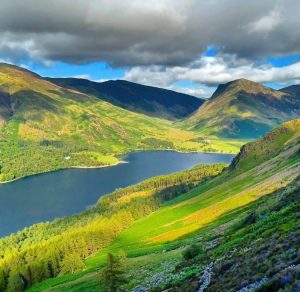 ---
This lake boasts breathtaking views, is surrounded by mountainous terrain, and is a favourite among tourists and locals alike.
---
At one end, the interestingly named Sour Milk Ghyll creates a mesmerizing waterfall after heavy rain, adding to the picturesque surroundings of Buttermere.
---
The lake is approximately 2 miles long and half a mile wide, making it the perfect size for a stroll around the water's edge.
---
The trail takes you through fields and forests, with plenty of opportunities to spot wildlife and take in stunning views.
---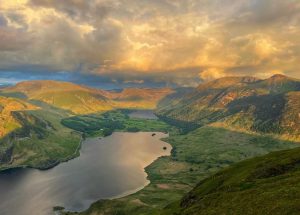 ---
Parking
---
If you're visiting Buttermere, you can park your car at a National Trust car park on the outskirts of the village (Grid Ref NY 172 173).
---
However, parking is free for National Trust members only, with a valid membership car sticker.
---
Be mindful that this car park can get quite packed during peak days.
---
If the National Trust car park is complete, you have two other options for parking.
---
There is a large pay-and-display car park in the village operated by the National Park, or at the opposite end of the lake; there is a small pay-and-display car park operated by Gatesgarth Farm (Grid Ref NY195 150).
---
Facilities
---
The National Park car park in Buttermere village is equipped with public restrooms.
---
The Bridge Hotel, located in the village, has a bar that welcomes walkers and serves food throughout the day.
---
The Fish Inn is another option for accommodation and a traditional pub meal.
---
Croft House Farm has a café that offers all-day dining and takeout options and English Lakes Ice Cream.
---
At Syke's Farm, just outside of the village, there is a tea room that serves ice cream made on-site from locally sourced milk and various snacks and baked goods.
---
Walking
---
The 4.5-mile walk around Buttermere is a popular and easy trail with well-maintained paths.
---
The walk starts near the Fish Inn (Grid Ref NY 175 169) and takes you through a gate into the National Trust property, a popular picnic spot.
---
To your right, you'll find the waterfall of Sour Milk Ghyll (Grid Ref NY 174 164), and if you take a left at the gate, you'll follow the lakeshore path to the other end of the lake.
---
You can cross one of the streams that feed Buttermere using Peggy's Bridge (Grid Ref NY 189 148). After a short walk, the path resumes at Crag Wood (Grid Ref NY 189 155) and leads to Sykes Farm outside the village.
---
Buttermere also serves as a starting point for several popular mountain hikes, including Haystacks, High Stile, and Red Pike.
---
In the village, visitors will find public toilets at the National Park car park and places to eat and drink, such as the Bridge Hotel bar and the Fish Inn, as well as the Croft House Farm café and Sykes Farm tea room.
---
If you're a fan of water sports, Buttermere is a great place to try fishing, kayaking or paddleboarding.
---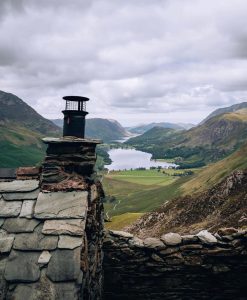 ---
The lake's calm waters make it ideal for these activities, and plenty of local companies offer equipment rental and guided tours.
---
The lake is a popular destination for picnicking and sunbathing in the summer months.
---
Several designated picnic areas around the lake make it easy to find a secluded spot to enjoy a packed lunch or a refreshing drink.
---
For those looking to learn more about the history and culture of the Lake District, Buttermere is home to several historic buildings, including St James' Church and The Fish Inn, which are well worth a visit.
---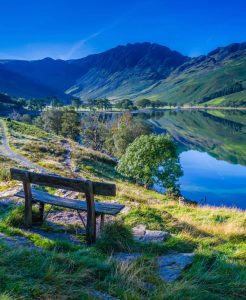 ---
Finally, if you're looking for somewhere to stay in the area, there are plenty of local B&Bs and camping sites.
---
So whether you're a seasoned hiker or a casual tourist, Buttermere is a must-visit destination in the Lake District.
---
In conclusion, Buttermere is a stunning destination that offers something for everyone.
---
Whether looking for a peaceful stroll, a challenging hike, or a relaxing picnic, this lake is a must-visit destination in The Lake District.
---