Tourists often overlook this lengthy lake in favour of its smaller counterpart, Buttermere, which makes it a serene alternative for a lakeside picnic or paddle if you're willing to venture a bit further.
---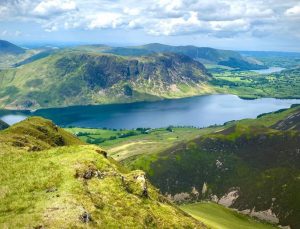 ---
You can reach it by taking the B5289 from Cockermouth and discovering many hidden spots the local community favours.
---
With its crystal clear waters, surrounded by towering mountains, it's no wonder this lake is one of the most popular tourist destinations in the region.
---
Here's a comprehensive guide to help you make the most of your visit to Crummock Water.
---
At the southern end of the lake in Buttermere village, there are two dining establishments: The Bridge Hotel and The Fish Inn.
---
Both are welcoming to walkers and offer food options.
---
There are two cafes in the same town, Croft House Farm Café and Sykes Farm Tearooms, that offer snacks and ice cream.
---
Public restrooms are available in the Buttermere car park, but there is a small fee.
---
Unfortunately, there are no amenities at the northern end of the lake.
---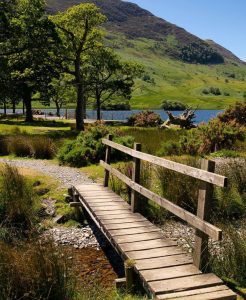 ---
Things to do at Crummock Water:
---
Go for a walk: The Scalehill Bridge to Crummock Water, a northern shore walk, is a lovely and easily accessible walk, even for those with strollers, though it requires some uphill effort on the way back.


---

Once you arrive at the shore, you can stroll in either direction and enjoy plenty of picnic areas.

---

For a more challenging yet rewarding experience, consider a hike up to Scale Force Waterfall starting from Buttermere.

---

To reach the waterfall, take the trail near the Fish Inn towards Buttermere Lake and turn right at the fork in the path (Grid Ref NY 174 168).

---

Follow the trail to its end and turn right again to walk along the stream until you reach the beautiful Scale Force Waterfall at Grid Ref NY 152 171.

---

It is possible to walk around the lake, about 8 miles, but some parts of the route will be on the B5289.

---

Take a boat tour: Enjoy breathtaking views of the lake and its surroundings on a relaxing boat tour.


---
Visit Buttermere: This beautiful lake is just a short drive from Crummock Water and provides a unique perspective of the area's natural beauty.


---

Explore Keswick: This charming town is just a short drive from Crummock Water and offers a range of shops, cafes, and pubs to explore.


---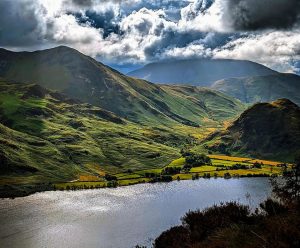 ---
Where to eat:
---
The Fisherman's Inn: This cosy pub offers delicious dishes from local ingredients, including seafood, salads, and sandwiches.


---

The Lake Hotel: This hotel serves classic pub food such as pies, sandwiches, and soups.


---

The Bridge Cafe: This quaint cafe serves light bites such as sandwiches, soups, and cakes.


---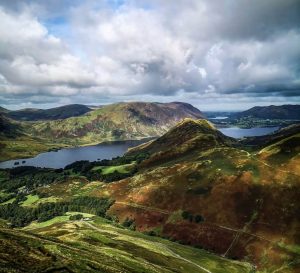 ---
Where to stay:
---
The Lake Hotel: This hotel provides comfortable guest rooms with views of the surrounding hills.


---

Keswick YHA: This budget-friendly option offers dormitory rooms and is a short walk from Crummock Water.


---

Crummock Water Holiday Park: This holiday park offers self-catering cottages and lodges with stunning lake views.


---
Parking
---
There are several parking options available for those visiting Crummock Water.
---
You can park along the B5289, which runs along the lake's edge towards Buttermere, or choose from two designated parking areas: Scalehill Bridge (Grid Reference NY 149 215) or Lanthwaite Green Farm (Grid Reference NY 158 207).
---
Both of these locations offer easy access to the lake's northern shore via footpaths through Lanthwaite Wood (Grid Reference NY 152 208).
---
Another option is to park at Buttermere Village and walk up to the lake's southern end.
---
Keep in mind that parking in Buttermere Village is pay and display.
---
In conclusion, Crummock Water is a magnificent destination that offers visitors the opportunity to escape the city and immerse themselves in nature.
---
Its range of activities, delicious dining options, and comfortable accommodations make it the perfect place to spend a few days exploring the Lake District.
---
So why plan your trip today and discover all this beautiful lake has to offer?
---